JOIN OUR MISSION
Commit to Green was founded on the belief that smart designs that are selectively applied to the right medium can raise environmental awareness in our communities. Our unique products help educate consumers on the importance of responsible waste management that greens our garbage and keeps our landfills' growth in check.
Our mission is to provide tools and strategic leadership to advance a collaborative goal of achieving zero waste across public and private sectors. Since we started in 2017, we've taken some positive steps towards helping reduce excess packaging waste. We're proud of our impact, to date:
OUR SOLUTION
Commit to Green makes plastic-free packaging out of resin derived from plants and cornstarch. When our products are recycled in the right compost environment, they turn into H20, C02 and Humus, providing nutrients to the soil in just 180 days and reducing the need for plastic polyethylene bags for the future.
FOOD
In the United States, 40% of food is wasted each year, which could amount to nearly 60 billion meals. One person can divert the waste of up to 219 pounds of food a year on average and a family of four up to 1,160 pounds.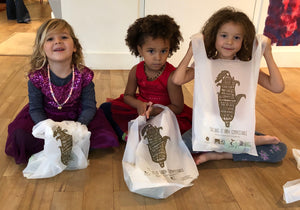 PLASTIC
Your family of four can take up to 1,500 plastic bags out of rotation in a single year, that means few bags end up in the ocean and less barrels of oil are needed every day.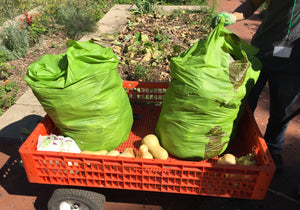 YARD WASTE
You can compost nearly 30% of your house and garden waste every year. This diverts waste from landfills and helps create natural, helpful resources.
WHAT'S NEXT?
Commit to Green is making the journey of going green convenient! We do that through education, transparency, and real-time closed loop solutions that work at an individual and corporate level.

We're dedicated to simplifying the recycling journey by creating tools, resources, and digital programs for consumers and businesses who are looking to learn about compostable packaging, and by identifying compostable products and disposal systems they can start using today.
WE ❤ CUSTOMER REVIEWS
★★★★★
Wow - these compost bags actually work!! I still double them up for "piece-of-mind" (as I really dislike cleaning the compost container every time after a full bag is removed), but you probably only really need one bag lining your countertop container. This is the first compost bag I have found that is actually study and doesn't rip when I open it, or end up with holes in it before it's even full! Highly recommended!

Stacey F.
★★★★★
I love the idea and it's very nicely designed 😊 makes composting fun!! The bags are very strong. Most compostable bags have problems with that but the ones from commit to green don't tear or leak!

Mia Maria
★★★★★
Our compost is typical and includes wet solids (e.g., coffee grounds) and all other bags end up tearing within a couple days before taking it outside. These haven't. Must be because they're thicker, but one day I'll test how long it takes to tear as they work so well I wonder if they'll biodegrade at all. I suspect they will, but point is, they work great.

P. Olson
Location
CONTACT
335 Madison Avenue • Floor 4
New York, NY 10017
Phone: 646.490.6330
compost@committogreen.com